A bright and sunny day (22 May 2022) for the team of Alan, Dave, Chris and Rita in the cemetery today, and a big thanks to SDC for emptying the filled dumpy bags and for cutting the grass. The boys concentrated on the Vickery grave 11-24a. The grave was in a sorry state, kerbs and posts pushed out of position and the concrete over slab broken. The landing underneath supporting the kerbs and concrete slab had cracked and sunk in the middle. The old cement joints on the kerbs and posts was removed and the concrete slab levered back into line, the kerbs and posts were then cemented back into position and the gap between the long kerbs and landing were packed to provide support. It was decided the gap needed to be filled completely with concrete to give added support to the kerbs, this will be done next week. The holly tree nearby had to be trimmed as the boys were knocking their heads on the low branches, a job for Rita to cut up and bag up the offending debris.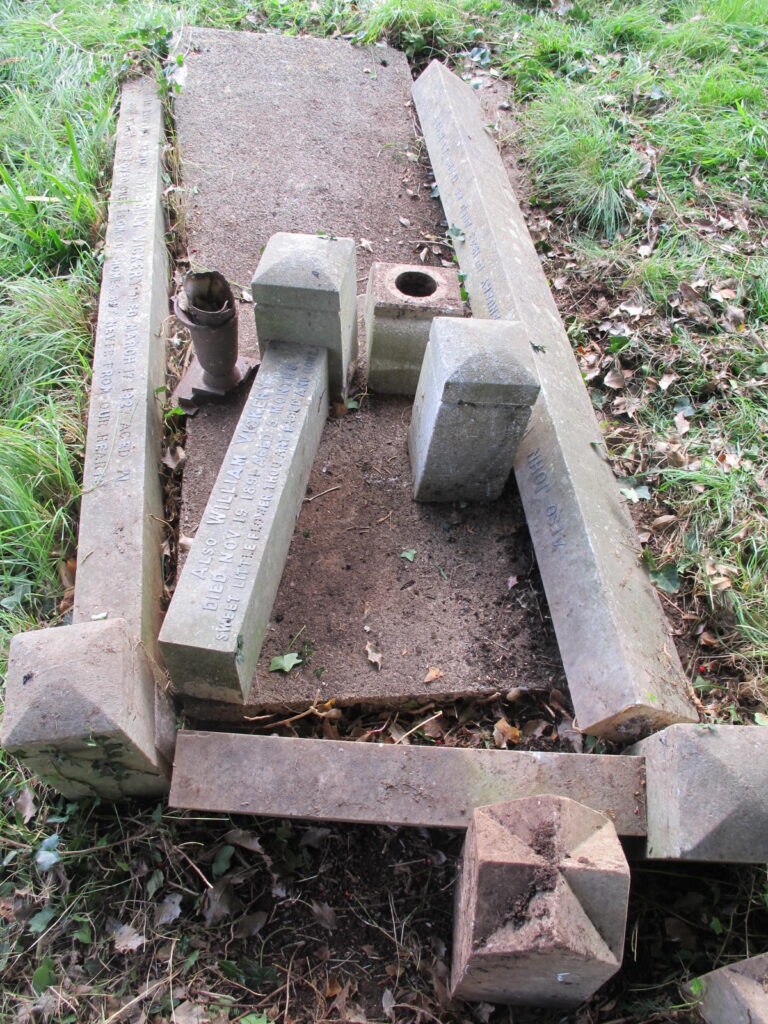 Rita then moved over to concentrate on clearing more of the wild flower area. While doing this she noticed that someone in the bungalow next door was cutting up a branch of a large sycamore tree growing in the cemetery that was lying on their garage roof, it was then she noticed that the branch had rotted and broken off the tree trunk. After a chat, the neighbour came into the cemetery and hauled the branch over the wall back into the cemetery. Rita trimmed off the smaller branches and Dave came over with the saw and cut up the larger bits of the branch.
The boys did as much as they could on the Vickery grave and moved over to the Staple grave 11-17 nearby. The fallen headstone had been damaged by the mower, fortunately at the bottom end, the inscription at the top was in good condition and could be clearly read. Earth around the base stone that once held the headstone was dug away to expose more of the marble stone as a feature. The headstone was slid into position in front of the base stone. It was decided that the headstone should be placed on top of concrete slabs to give it more support and also somewhere to place the broken pieces. Weather permitting, this will be done next week. Another productive working session.
You can join the Friends of the Wembdon Road Cemetery here.
The Friends of the Wembdon Road Cemetery are part of the National Federation of Cemetery Friends.