The Broom memorial was repaired in the winter of 2016-2017 by Fine Memorials for Mr and Mrs Fisher
The Broom memorial consists of a large marble cross. The inscription reads: 18/885 In Loving Memory of Henry Broom who died March 25th 1925 aged 77 years. Also of Jane Broom the beloved wife of the above who died March 18th 1925 aged 76 years. Their end was peace.
The cross had broken since being toppled and was in a sorry state. In the Summer of 2016 attention focused on this whole row as part of Mr and Mrs Fisher intention to focus on their Stephens family memorial.
Broom was included in the second phase of this effort, and was repaired by Fine Memorials. The made sure the three-tier plinth was on a firm foundation, then they pinned and cemented the cross back into position, ensuring the break in the cross was mended first. Once they had finished, along with the neighbouring King Memorial, the Friends volunteers got to work.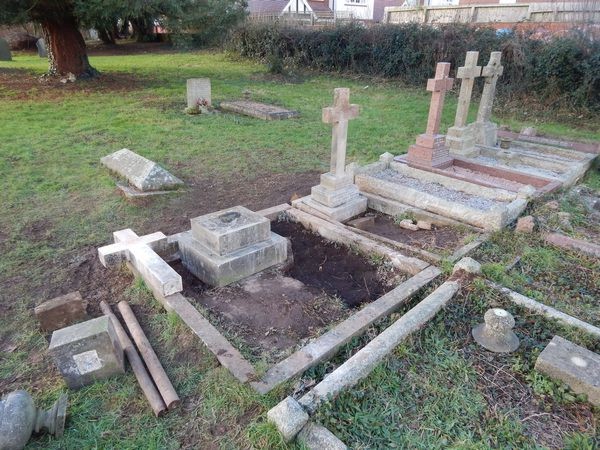 The ground under Broom and King had to be levelled first, then the two memorials could be rebuilt on a stable platform.
Once the memorial had been put back together by Fine Memorials, the Friends then tidied the kerbs, cleaned the marble and laid new chippings.
The Friends of the Wembdon Road Cemetery are part of the National Federation of Cemetery Friends.