The Rev Fitzgerald Memorial was repaired in the Summer of 2014 by Fine Memorials for the Friends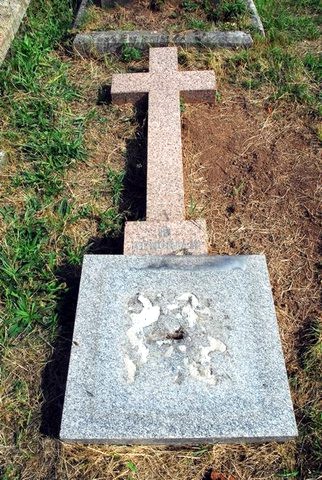 The Fitzgerald cross, a memorial to a former Vicar of St. Mary's Church who performed the funerals of so many folk buried in the cemetery, was re-erected for the Friends. The inscription reads: 39/323 In Memoriam William George Fitzgerald who departed this life August 4th 1896 aged 63 years. For me to live is Christ and to die is gain. Also to the memory of Agnes his wife who departed this life July 22nd 1911 aged 74 years. For ye are all the children of God by faith in Jesus Christ.
His memorial was chosen as a prominent cross near to the main path which would also be visible from the Wembdon Road. It would compliament the repaired 'Anglican Chapel Corner' memorials and build upon that phase's work into the interior of the cemetery, as well as compliamenting nearby memorials re-erected by members of the public. The base was in good condition, so its steps were simply mortared back into position and then the cross pinned and mortared into place.