The Helps Memorial was repaired - as far as was possible - in the Spring of 2018 by Fine Memorials for the Friends
The Franks memorial was repaired, as part of the Friends' centenary commemoration of the end of the First World War in 1918. The inscription on the memorial reads: 11/220 In Loving Memory of Elizabeth dearly beloved wife of E. W. Helps of Westleigh, Bridgwater who fell asleep August 11th 1904 aged 43 years. Thy will be done. Also of Frank B. Helps Queens Westminster Rifles, killed in action at Ypres July 23rd 1915 aged 21 years. The supreme sacrifice. Also of the above Edward William Helps born Nov. 17 1864 died March 27 1917. Also of Victor W. Helps youngest son on the above July 23rd 1921 aged 24 years.
Frank lived on Durleigh Road, attended Dr Morgan's School (now Haygrove) and trained as a draper. He enlisted in the signals corps in August 1915 and quickly rose through the ranks to become second lieutenant. Frank was killed on 23 July 1915, while on outpost duty. This was less than a year after he enlisted. He was 21 years old.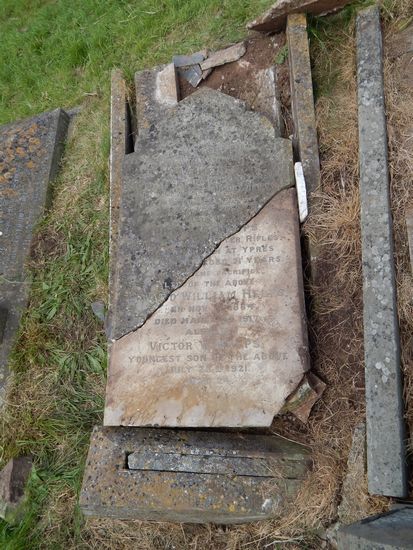 The Helps memorial is a large tombstone, toppled and cracked apart. Fine Memorials did an excellent job of reassembling the remaining pieces and pinning the memorial back onto a firm foundation.
Unfortunately, after careful attention by Fine Memorials, it was found the memorial's stone was of such poor quality, that even with their best efforts the Helps memorial would not last long. It was therefore decided to lay the memorial flat, although with a slight angle to allow water to run off. The Friends' volunteers helped and the memorial was set on a solid base, surrounded by new chippings.