Memorial for the Lott family of Bridgwater. Conserved Summer 2014 by Fine Memorials for the Friends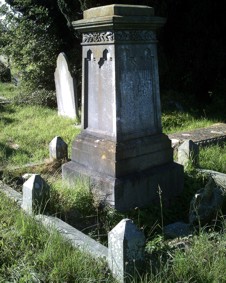 The Lott memorial is a tall and sturdy Classical block above the family vault. It was originally capped by a draped urn, but when the site was surveyed in 2008 this had bizarrely been removed and rested within the memorial kerb. Part of the space within the kerb had collapsed due to subsidence. Fortunately, the main block showed no sign of settlement.
While Fine Memorials were in the Cemetery with their gantry, working on other memorials for the Friends, it was little effort for them to simply lift, pin and mortar the urn back into place.
To further enhance the memorial, in July 2016 the Friends' volunteers started working on the collapsed part of the surrounds. The kerbs were taken out, then the area of subsidence was filled with rubble and levelled. This took a number of weeks of very hard work.
Once the ground was stabilised, the volunteers then set about repairing the kerbs. On new foundations, they were cemented carefully into place.
Finally, membrane and chippings were added within the kerbs to complete the memorial's restoration.
This memorial is in section F of the cemetery, not far from the Richards Obelisk, which we've also repaired.