The Parminter memorial was repaired in the summer of 2013 by Fine Memorials for Susan Fairfax.
The inscription reads: In loving memory of Thomas S Parminter died April 30th 1895 aged 52 also Mary Ann wife of the above died December 1st 1919 aged 82. Also their children. Thomas W Parminter died July 1915 aged 55. William C Parminter died March 7th 1909 aged 35. Gertrude Annie Baker died September 25th 1920 aged 37. Burial records show. Bessie Williams buried Jan. 14 1946 aged 83 years.
The Parminter memorial was a large polished granite Celtic Cross not far from the old Dissenter chapel. At some point the cross had been dismantled, while the kerbs were damaged by being based by the council mower.
The repair of this memorial was commissioned and paid for by the family direct with Fine Memorials. The memorial was put right again as Fine Memorials drilled the base stone and cross, inserted a stainless steel rod and joined them together. Afterwards they set the kerbs right again, and the memorial looked as good as new.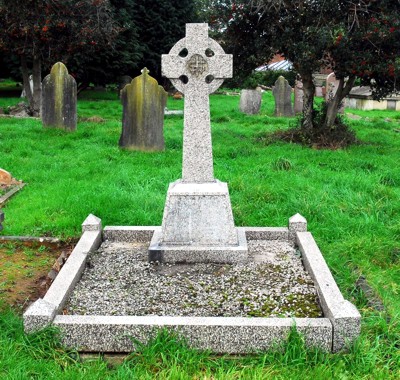 With this memorial back up, this whole area immediately looked better. More memorials nearby would following in subsequent years.