The Allen Memorial was repaired in the Summer of 2014 by Fine Memorials for the Friends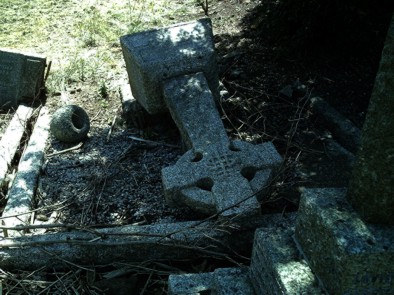 The inscription reads: 42/88. Sacred to the memory of May beloved wife of Frederick Harold Allen who passed away November 30th 1918 aged 41 years RIP. In Loving memory of Frederick Harold Allen died March 11th 1941 aged 72 years. Also of Edith Allen beloved wife of Frederick Harold Allen August 24th 1927 aged 51 years.
The impressive Allen Memorial, a tall granite Celtic cross, was re-erected by the Friends as part of our push to improve the vista of the cemetery from the Wembdon Road. The scale, the fine design and the great preservation of the memorial despite being toppled made this a priority to receive attention. Fine Memorials provided a level base for the great cross, then simply pinned and mortared it into place with the aid of their lifting winch. It was a heavy job, but the results looks excellent. This memorial, along with the others done at the same time, greatly improve this part of the cemetery.