The Hall Memorial was repaired in the Summer of 2014 by Fine Memorials for the Friends.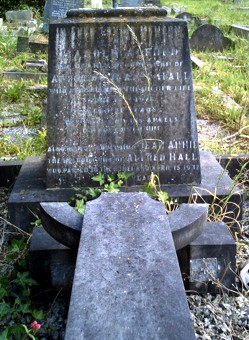 The Hall memorial, a large Celtic cross, had been toppled and broken. Sadly, the great cross at the top was shattered.
The inscription on this memorial reads: 15/110. In ever loving Memory of Harold Alford the dearly beloved son of Alfred and Jean A Hall. Who passed to the higher life June 16th 1918 aged 21 years. He shall give his angels charge over him. Also the above mentioned Jean Annie the beloved wife of Alfred Hall who passed to the home land April 15th 1932. Aged 74 years.
As part of the Friends effort to improve the vista of the cemetery from the Wembdon Road it was chosen to be repaired by the Friends. Fine Memorials did the work for us, coming into the cemetery in the Summer. The cross was first glued back together, then pined and mortared back into its base. At the end of this process it looked as if this memorial had never been toppled at all, and had been left to age gracefully. Now it can again.