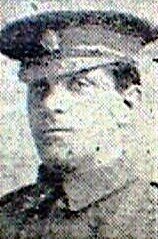 Pte 1st Battalion Somerset Light Infantry
For the best account of Walter's life see his article in the Western Front Association page.
Also see here.
Extracts from the Bridgwater Mercury
30 September 1914: 'LOCAL FOOTBALLER FOR THE FRONT, Mr Walter Roman, former captain of Bridgwater RFC also served in the Boer War.
26 January 1916: Photos of 5 sons and son in law of Mr G Roman, West Street, Bridgwater. Pte H Roman, 7th Gloucesters; Lance Corpl W J Roman, 1st Somersets; Corpl Geo Roman, Coldstream Guards; Driver W Roman, ASC; Sergt C Roman, Coldstream Guards; Seaman Amos Martin, RNS Mine Sweeping.
12 July 1916 Lance Corpl W Roman, (Rattler Roman) Somersets, well known Bridgwater and county footballer, seriously wounded in arm and leg. In Cheltenham Hospital.
2 August 1916 Death of Lance Corpl Walter Roman, 'Rattler Roman', Somerset LI, in Cheltenham Hospital. Badly wounded early in British offensive. Brilliant rugby football career. Father Mr Geo Roman, West St, Bridgwater. 4 more sons serving: Harry, George and Wm Roman in France, Clifford Roman in England.
9 August 1916 Report of funeral of Lance Corpl W Roman with photo.