A lovely sunny day working in the cemetery today (13 November 2022). The team consisted of Chris, Dave, Alan, Rita and Miles our chairman. The first quick job was to tidy up two large fallen tree branches, which was done in very quick time.
Then everyone walked around the cemetery and showed off the hard work the team had been doing since the chairman last came down from Glasgow.
Dave and Miles worked on the area behind the first house in Wembdon Road where foundations of a wall was uncovered. They dug all morning uncovering a brick floor that was thought to be the caretakers workshop. Measurements and photographs were taken, a little more digging may take place but it was agreed we would cover this over for protection against the winter weather and uncover again next year in the Spring. (Later after investigations it appears this was the wood store which was on the end of the vestry).
Meanwhile Rita made her way up to the wild flower area, which was covered in fallen leaves. These were cleared away so corn daisy plants which had re-seeded in her garden could be transplanted into the wild flower area. Rita spent the rest of the morning clearing weeds, nettles and brambles, filling a dumpy bag.
Chris and Alan started work on the Crocker grave 7-65 that has been earmarked for refurbishment by Fine Memorials. The kerbs with four posts on each side kerb that are log shaped had to be moved and were laid flat nearby. The end kerbs were also removed and laid in a safe manner. This done, will give space for SDC to cut down the holly tree growing out of the grave and for Fine Memorial to re-erect the base stone and large decorated block which sits on top. Both have sunk one side into the grave.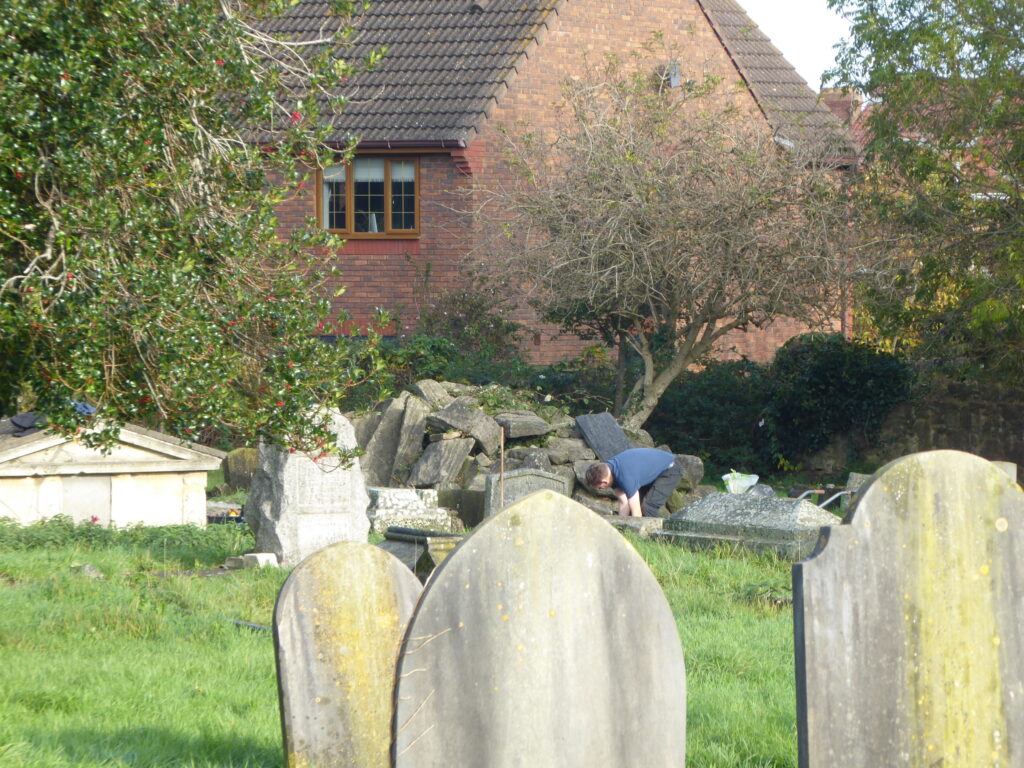 They then moved over to the Strange grave 8-28 which had recently been prepared by the Friends and this was then cemented back together, covering the cemented posts and kerbs against tomorrows rain which has been forecast.
Everyone worked really hard and Miles went home rather muddy – just to show he had been working as hard or even harder than everyone else!